Belk Theatre at Blumenthal Performing Arts Center | Charlotte, North Carolina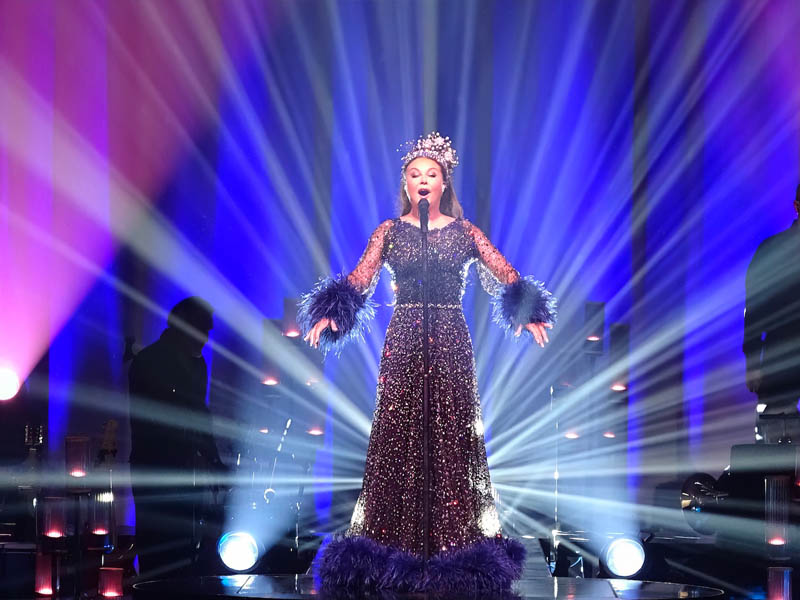 One of the world's best singers will be traversing the nation this winter, and it's anticipated to be the most exciting holiday spectacle of the season! Crossover and classical soprano Sarah Brightman gives her fans a remarkable soundscape with A Christmas Symphony Tour, covering numerous cities, including a stop in Charlotte, North Carolina! Enjoy a plethora of holiday staples as Brightman lights up the Belk Theater with her captivating voice! The singer is guaranteed to bring the house down on Sunday, 3rd December 2023 as she enchants audiences with a remarkable production designed to lift your Christmas spirits! This winter, Brightman will win your hearts and souls by serenading you with the most outstanding music hits you would want to hear this holiday season! Hurry and catch Sarah Brightman conquering the Belk Theater with her amazing voice! You can secure your tickets now by clicking on the Get Tickets link!
You loved her for her amazing covers of iconic hits, such as "Time to Say Goodbye," "Ave Maria," "Phantom of the Opera," and many more. She's currently regarded as one of the best sopranos in the world. Sarah Brightman returns for another fruitful holiday season this 2023 to deliver A Christmas Symphony Tour. Can you imagine your favorite Yuletide staples sung by one of the world's best singers? Well, it's definitely happening and it's coming to a city near you! In this case, Brightman drops by Charlotte for her North Carolina stop. Together with her groundbreaking production, Brightman will conquer the Belk Theater with numerous hits.
If you have a taste of classical, pop, and musicals, seeing Brightman perform on stage should be on your bucket list. The singer has been known to perform incredible songs from the musical Phantom of the Opera. She was, after all, the original Christine Daae in Lloyd Webber's adaptation. Her astonishing voice has also performed extraordinary renditions of opera hits, such as Andrea Bocelli's "Canto Della Terra," and "Time to Say Goodbye," Ennio Morricones' "Nella Fantasia," and Giacomo Puccini's "Nessun Dorma."
Aside from classical operatic numbers, Brightman can also deliver some contemporary hits like Kansas' "Dust in the Wind" and George Forrest & Robert Wright's' "Stranger in Paradise." This winter, Brightman is anticipated to change up her setlist as her Christmas-themed tour is highly likely to feature holiday staples. Nevertheless, whatever setlist she has up her sleeve for A Christmas Symphony, it is anticipated to showcase her fantastic versatility, vocal prowess, and incredible range as a performance artist!
Conquering the Belk Theater, Brightman has chosen the perfect destination to host her concert in Charlotte. The theater is the biggest of Blumenthal Performing Arts Center's four theaters. The concert hall boasts an incredible architectural design with top-tier sound and light technology, and plush seating. Seeing a grand holiday-themed concert by the world's most celebrated opera singers at the Belk Theater is definitely a sight to behold and an experience you can cherish.
So hurry and secure tickets to see Sarah Brightman at the Belkman Theater on Sunday, 3rd December 2023! Click on the Get Tickets link now!